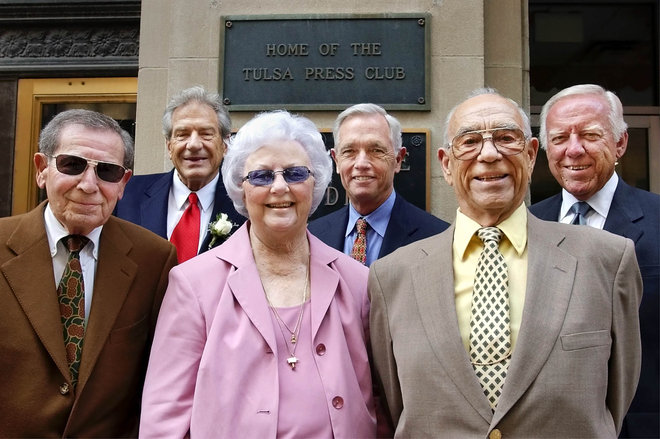 Clayton Vaughn was one of the six winners of Tulsa TV Icons, a group of original news channels from the Tulsa area, on May 22, 2003. The group included Jack Morris (left), Bob Hower, Betty Boyd, Vaughn, Don Woods and Lee Woodward.
Clayton Vaughn, best known as the Dean of Tulsa Television during his 40+ year broadcasting career, has passed away. He was 86 years old. Services are held later. Vaughn's career took him to the nation's largest markets, but he kept pulling back to Tulsa. He spent more than 30 years at KOTV, Channel 6, most of the time as news director, evening anchor, and later as senior editor. He retired from KOTV in 1998.
Vaughn was born Clayton Rush Vaughn on January 12, 1935 in Pittsburg, Kansas, and grew up in Cushing. He was active in high school language competitions and was recommended by a language teacher when a new radio station in Cushing sought help from the high school ranks in 1953.
According to a biographical interview with John Erling of Voicesofoklahoma.com, Vaughn hadn't considered entering the broadcast realm prior to this opportunity. And, Vaughn said, "I never had a job after 1953 that wasn't on the radio."
Vaughn's longtime Tulsa club began when he took a $ 350 a month job as a journalist for a rock and roll network, KAKC, in 1958. He then climbed the broadcast ladder and worked for television stations in Tulsa, Los Angeles and New York.
Vaughn had no ambitions to switch to television, but in 1964 he was recommended for a KOTV job by Jim Hartz, who was hired by WNBC in New York and who eventually co-hosted the show "Today".